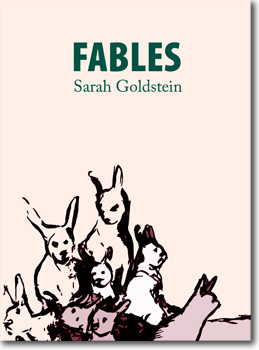 Brian Oliu reviews
Sarah Goldstein's
Fables
(Tarpaulin Sky Press, 2011) at
Specter Magazine
, and we are grateful.
Oliu calls
Fables
a "gorgeous intertwining of allegorical stories presented in tiny fragments, dare I say breadcrumbs!, that display a horrifying yet beautiful world where mayors keep bones in boxes and ghosts enter through the beaks of birds," but Oliu also notes "The language is reassuring, declarative: that we trust in whomever is telling us these fables, that the world that exists is a world that exists—that what happens here happens, that it will not disappear when someone wakes."
Good stuff.
Read the full review here
.
Get
more info and read a sample of the book.